Eco Friendly Gift Ideas For Mum This Mother's Day
What's the ideal sustainable Mother's Day gift for the earth and ocean-loving mum? Locally made, natural and luxurious, Azur Pure Skincare products are the perfect gift choice to pamper your mum. If she loves the ocean and nature, cares what ingredients are in her products and loves everything natural and organic, look no further!
Get Free Gift Wrapping & Card – just select and add your message at checkout. Plus, all orders over $100 get free shipping!
This botanical facial set has everything needed for luminous glowing skin.
Includes all Azur facial favourites – Swell Face Wash, Bondi Balm Facial Beauty Balm, Lemon Cream Facial Moisturiser and the best selling Azulene Antioxidant Face Oil – in mini trial / travel size.
This blue-themed botanical hand care set has a range of naturally blue botanical ingredients to nourish, hydrate and detoxify.
Inspire a luxe beachy vibe for the environmentally minded. Includes two elegant 200ml refillable frosted oval bottles and one handbag sized hand cream.
This special blue-themed botanical set includes five of Azur's blue best sellers, with the finest ingredients for healthy hydrated skin. Inspire a beachy vibe for the environmentally minded.
Makes a fabulous feel-good eco-luxe gift for the discerning wellness and eco warrior.
This unique luxurious aromatic body oil has a host of skin-pampering ingredients to strengthen collagen and elastin. Made from rare, precious oils, it smooths, soothes and sculpts for luminous, silky skin.
Lagoon Body Oil gets its beautiful teal blue colour from the chamazulene that's naturally present in premium quality Blue Tansy & Blue Yarrow Essential Oils. These naturally blue oils have powerful skin calming properties.
Sweet aromatic oudh boosts collagen and elastin production amongst many other skin benefits. Oudh is a rare natural oil derived from the resin of the agar tree, known to have strong spiritual properties. It is one of the most valuable natural ingredients in the world, more expensive by weight than gold, and highly prized by perfumers and royalty throughout history.
Whatever you choose, I'm sure she'll love it.
Remember to choose gift wrap and add a personalised message at checkout from you to mum!
Thanks for caring and choosing sustainably!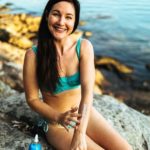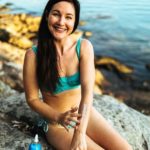 Founder, Azur
Anna 💙
POPULAR PRODUCTS