Born from a love of the ocean
Hi I'm Anna, Founder of Azur Pure Skincare. I'm so happy you're here. Having seen first-hand the plastic waste in our oceans,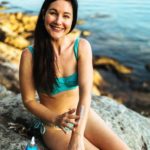 I wanted to create a solution.
I've always loved nature and wanted to help the environment since watching a video about landfill in the 90s when I was 7. In the early 2000s I had a vision of a shop selling pretty coloured refillable bathroom products in glass bottles.
Years later in 2018 when I couldn't find sustainably packaged natural skincare products like face wash and moisturiser, I decided to finally act on that business idea. I set out to provide effective natural skincare that's packaged truly sustainably.
With the goal to protect our oceans from waste, the name Azur was born with a beachy blue theme.
Azur started with just four simple products on Bondi Beach Sunday Markets as a side-gig alongside my 9-5 marketing job. People were really positive and I took onboard their input when adding new products to the line.
Over the years I've researched the best natural active ingredients and with the help of cosmetic chemists developed a unique range of natural effective premium products that help protect and restore skin without harming our planet.
Healthy glowing skin with a conscience
Effective natural skincare products that are pure enough to be used in a waterfall, responsibly packaged in refillable bottles.