Azur Pure Skincare Founder Anna Chatburn nominated in Environmentalist Category of the 3rd International Women's Day Awards by Bondi Chamber of Commerce & Bondi Beach Public Bar
I'm really honoured and excited to have been shortlisted for Bondi Environmentalist of the Year 2021!
It feels great to be recognised for all Azur's work to eliminate plastic waste from skincare and protect the the ocean. My intention with Azur Pure Skincare has always been to provide quality natural effective products that make women feel great about their skin, themselves and their choices.
I'm so humbled to be shortlisted in the Environmentalist Category alongside amazing women like the renowned Sarah Wilson!
If you'd like to vote in these awards for International Women's Day by Bondi Chamber of Commerce & Bondi Beach Public Bar to recognise all the women working hard to make a difference you can do so here: https://bbpb.com.au/iwdawards/
Voting takes two seconds and anyone can vote. Let's support women doing good in the world!
If you can make it to Bondi on Monday 7 March at 6pm join the awards night where the winners will be announced at Bondi Beach Public Bar.
Tickets: https://www.eventbrite.com.au/e/3rd-international-womens-day-awards-bondi-tickets-142200677053
Azur was born from my love of Bondi and the desire to prevent packaging waste from ending up in our oceans 🌊⁠
The photo above is of me with two of the first ever Azur products a couple of years ago on Bondi Beach.
I'm excited about the awards night and to hang out with inspiring women.
Thanks to all who voted for me to go in for Bondi Environmentalist Of The Year! 💙⁠
And I truly appreciate everyone who's been part of this journey and continued to support the mission of clean oceans and natural effective sustainable skincare.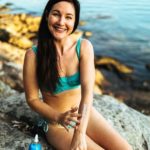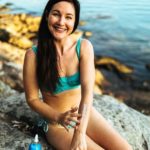 Anna 💙
Founder, Azur